Dhtml Menu Navigation by Vista-Buttons.com v5.7

Oops, it appears that you may have clicked on a bad link in my website. Or perhaps, you typed a link incorrectly.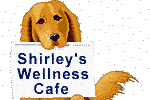 If you clicked on a link in my site and see this message, it means that I must have goofed somehow. My apologies.

It would be so very helpful to me if you would notify of the problem. Please use this contact form to notify me.

I need to know the following to be able to correct the problem:
What page you were visiting (what info were you reading) when you encountered the bad link?
What link on that page did you click on? (where were you trying to go to?)
(Click on the back button to return to the previous page so that you can take note of the title of the page you just came from)

.

The Shirley's Wellness Cafe's website is personally designed and maintained by Shirley Lipschutz-Robinson. All rights Reserved. All texts that is intellectual property is © copyright 1996 - 2010. The content of this page may be copied in part without specific permission as long as full credit is given with a link back to this page/website. If any other use is desired, permission in writing from Shirley Lipschutz-Robinson is required. Email Shirley. USE OF THIS SITE SIGNIFIES YOUR AGREEMENT TO THE DISCLAIMER

Email Shirley or call 323-522-4521, 323-522-4521 or 323-989-3372